If you are looking to paint the exterior of your home, look no further than Empire painting. Exterior painting offers a variety of benefits for homeowners. One of the most important benefits is protecting the building's exterior from weather damage, such as moisture, UV radiation, and temperature changes. A fresh coat of paint can also improve the curb appeal and value of a property, making it more attractive to potential buyers or renters. Additionally, exterior painting can help identify and address any underlying issues, such as rot or decay, before they become more serious and costly to repair. Exterior painting can also provide an opportunity to update the style and color of a building, giving it a fresh and modern look. If you are  In Waukesha County and the Milwaukee area, contact us for a free quote today!
House Painting in Milwaukee and Waukesha County
Never underestimate what a fresh coat of paint can do. Painting your home can really help increase the curb appeal as well as protecting it from the elements. Empire Painting's attention to detail and professional painting contractors will make sure your home is taken care of. We do all the prep work and have a very precise painting process that we follow for each of our exterior painting jobs.
Empire painting has been providing exterior home painting and staining for almost 20 years. Put your exterior painting projects in the hands of true professional painting company. If you are in Milwaukee and Waukesha County, let Empire Painting tackle your house painting projects. Contact us today for a free estimate or to get more information.
Empire Painting's Exterior House Painting Process
Area Preparation
The Empire team covers landscaping as best as possible while working on exterior surfaces. Prior to pressure washing, we ask homeowners move any patio furniture, yard décor, or prized potted plants to areas away from the work zone. It may be helpful to store these items in your garage to keep them safe as well as making sure the area is clear for workers.
If landscaping is touching siding, we ask this be trimmed prior to the start date. If Empire team's is able to perform minor trimming, we will do so but cannot guarantee how manicured it will look. We will do our best to minimize cutting.
Surface Preparation
After cleaning surfaces, the Empire team will scrape and sand as needed to remove any loose, flaking paint. This enables better primer adhesion. All bare areas will be primed prior to finish coat application. Failing caulk will be removed and re-caulked for a durable seal.
Paint Application
Empire includes two finish coats of paint for all exterior projects. Paint will typically be professionally sprayed and back-rolled between each coat. Finer details will be brushed by hand.
At the end of each workday, Empire's team neatly stows away materials and supplies. Upon project completion, a thorough cleanup is performed. We inspect our work throughout the process and follow up to ensure your satisfaction before invoicing.
Call Or Click To Get Started!
262-303-6472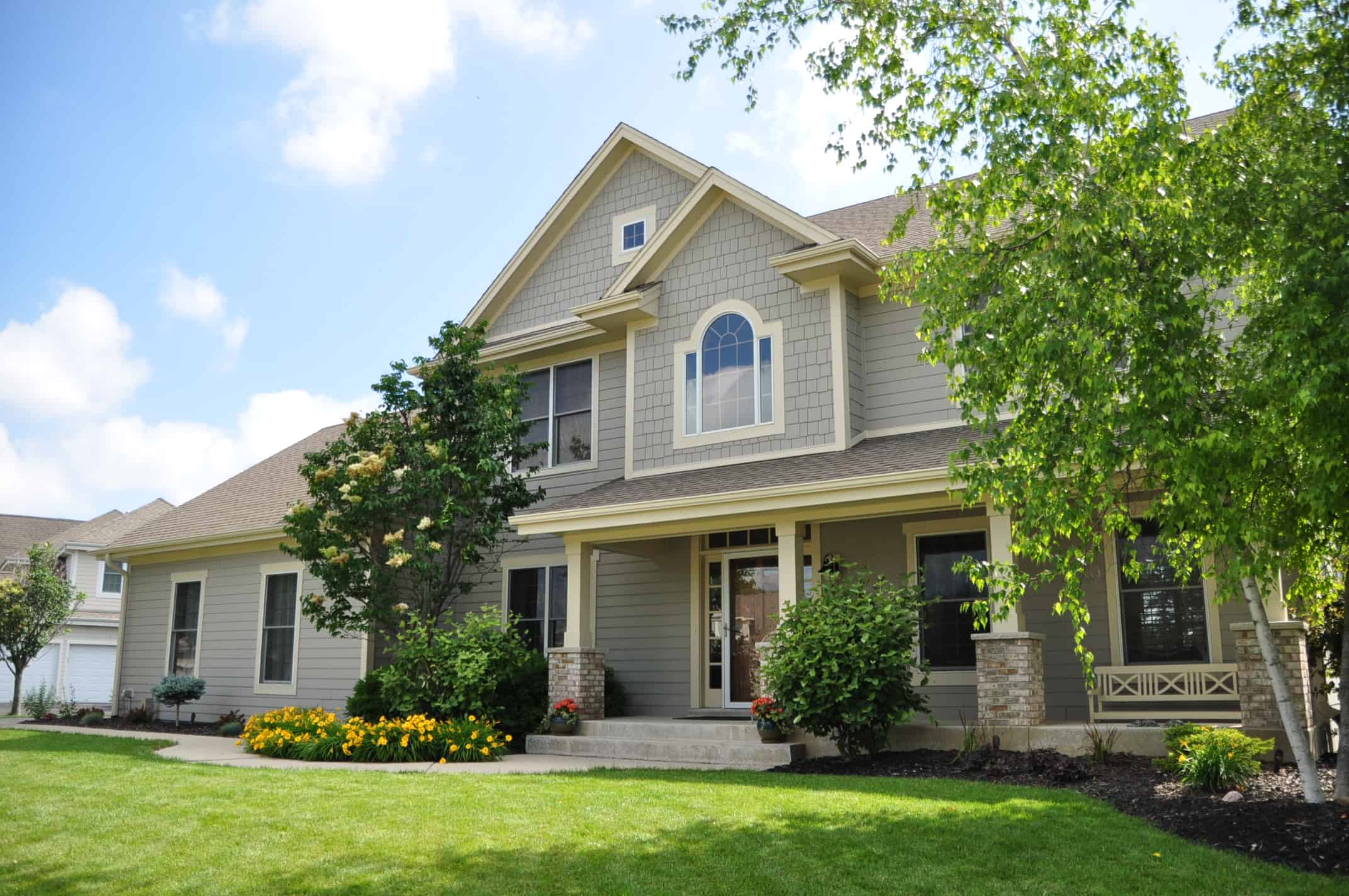 Exterior Paint Recommendations
As a rule of thumb, Empire Painting recommends premium paint brands such as Sherwin Williams and Benjamin Moore. The type of paint and quality of paint will matter for your exterior painting project, which is why we highly recommend the best.
Curious about specifications? Visit Sherwin Williams or Benjamin Moore online to see product descriptions and paint colors.
RELATED SERVICES
Maybe home painting isn't quite what you are looking for. Empire Painting provides other exterior services including power washing and home staining as well. We also provide commercial painting services to businesses looking for larger projects. You can contact us to learn more about pricing and timing for both residential and commercial painting projects.
Interior Painting
Services
Weather you're paint job includes painting ceilings, living room walls, or trim, we've got you covered. Empire's professional painters can tackle any interior house painting project. Located in Delafield, WI, we serve the Milwaukee area, Waukesha County, and the surrounding area. Reach out today for a quote, or call us to get more information. 
Areas We Serve
We proudly serve our neighbors in the following areas: