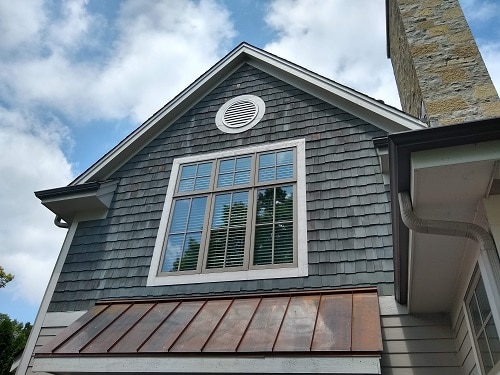 Cedar Siding and Trim Painting
Cedar is a popular choice for home siding and trim, both for its aesthetic appeal and practical benefits. Naturally resistant to UV rays, insects, and moisture, cedar siding can be stained to achieve a desired style and extend its longevity.
Empire has experience cleaning and staining cedar homes throughout Waukesha and Milwaukee County. We work with all types of residential cedar siding including bevel, channel, tongue & groove, board & batten, shingle, and shake.
As cedar boards age, repair or replacement can become necessary. Empire Painting offers carpentry repair and board replacement for cedar siding and trim boards. Repair work is often quoted separately within a proposal, on a time and material basis. Please note we cannot offer our exterior services to homes with original wood siding built before 1978, due to lead paint.
How Cedar Ages
Given enough time, cedar wood naturally weathers and grays. Some homeowners embrace the rustic appeal of weathered cedar while others want to cover it up. Even though cedar boards might look aged or brittle due to weathering, cedar has natural preservatives and other properties like low density that can give it a surprisingly long service life.
Weathered cedar can require more cleaning and preparation before either stain or paint can be applied, especially if algae, mold, or mildew is present.
To Stain or to Paint?
Staining cedar siding enhances its natural beauty, and homeowners can choose from transparent or semi-transparent stains. Stain is thinner than a solid-body paint appropriate for wood and does not offer cedar as much weather protection.
If protecting your cedar siding is a priority, a coat of stain-resistant primer followed by an exterior acrylic latex paint is your best bet. This type of paint has some elasticity to it which allows it to move with the wood boards as your cedar siding expands and contracts with changes in the weather. Priming before painting helps the paint adhere to the cedar better, and significantly extends the life of your siding.
Choosing a Product
Empire recommends Sherwin-Williams products such as Woodscapes and Resilience for most cedar exterior areas. We recommend the right fit based on assessment during your free estimate. Homeowners are encouraged to obtain color samples prior to application. And because the final color and finish are critical to how you'll feel about your home, Empire offers free color consultations.
Request Your Free Empire Estimate
Every residential painting job begins with a free, detailed on-site estimate. Empire's owner Dan Brooks personally reviews all quotes for pricing transparency, clarity, and consistency. Empire Painting is headquartered in Delafield, offering cedar siding staining and painting throughout Lake Country, Waukesha County, and the greater Milwaukee area.
Empire's Process
Our process: Quality home exterior refinishing is 80% preparation and 20% application. We take the time to prepare and repair your cedar siding properly to extend the life of your siding and the home beneath.
Use gentle pressure washing to clean exterior cedar surfaces
Scrape and sand away the old paint
Repair or replace damaged cedar boards as needed
Prime bare surfaces and apply semi-transparent or solid-body stain
Walk-through finished work for inspection
One free touch-up visit is always included. For houses with cedar siding, Empire recommends an annual cleaning and a fresh two coats approximately every five years for protection.