No one loves a dated kitchen. It dampers the spirit and property value. Full kitchen remodels take weeks, require endless decisions, and often destroy reusable materials.
Empire Painting suggests a more sustainable solution: renew existing cabinetry.
It sounds simple. All you need is a sander, primer, and paint, right? Not to knock anyone's do-it-yourself chops, but restoring cabinetry correctly is a time-consuming process. The task grows more complicated if it entails changing stain or applying glaze.
For individuals tackling the renovation, it may take weeks to complete and vary in difficulty according to your handiness, cabinetry condition, and desired finish. So, what are the full benefits of keeping your oak, maple, or cherry cabinets?
Benefits of Keeping Your Current Cabinets
Changing a kitchen's layout adds the most cost to a renovation. Custom cabinetry is the second biggest budget buster.
While dated, solid wood can easily be stained or painted to achieve looks ranging from rustic farmhouse to modern lake house.
Whether you just purchased your home or plan to sell, kitchens are key to equity. You'll see a healthy return on your investment. (You can improve bathroom cabinetry, too!)
We know, it's hard to visualize transformations. Just take a peek at our recent Pewaukee home project. This contemporary abode combines wood, elegant molding, and two-tone cabinetry.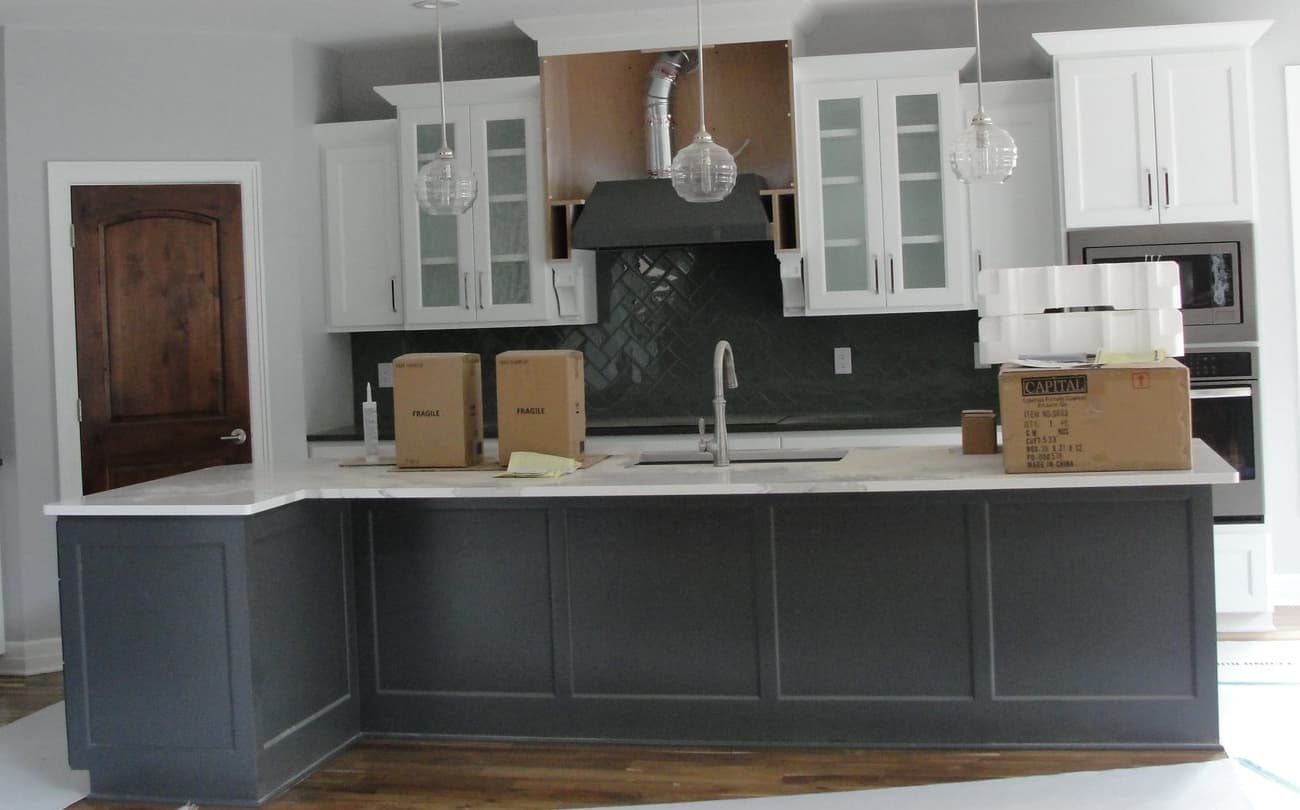 We're here to help. Empire specializes in cabinetry. With a full-time carpenter, pristine Delafield workshop, and a wealth of finishing experience, our professional team is equipped to create an affordable dream kitchen. We can transform cabinets into open shelving, add molding to islands, and offer free color consultations.
In addition to cabinetry refinishing, here are some steps to kick your kitchen up a notch:
Value Adds for Your Kitchen
Add task lighting
Apply backsplash
Install a new sink and faucet
Add complementary hardware
Still not convinced? Research, research, research. Check out these tips from Better Homes & Gardens and watch homeowner tips from withHeart below.
If you would prefer to keep the heart of your home open and complete a cabinetry renovation in days, hire Empire. Ask us about low and zero VOC paint.